On the 12th March 2020, due to the impact of COVID-19, Triathlon Ireland took the decision to postpone the Galco Naas Duathlon 3rd Race, along with other multisport events in the racing calendar. Naas Triathlon Club have been working with Triathlon Ireland and the race venue, Punchestown Racecourse, to reschedule the 3rd race. We are excited to announce that it will now go ahead on 11th October 2020 in the same format.
The 3rd race in the Galco Naas Duathlon series will run as part of the BMW Duathlon National Series and will also feature the Intervarsity National Championship and the Junior Duathlon National Series.
Your entry will automatically transfer to the new date and you do not need to do anything.
Refunds
If you are unable to attend on the 11th October 2020, you may request a full refund by 31st August 2020. To request a refund please email Triathlon Ireland directly at [email protected] stating the name of the event along with your own details.
If you purchased a Triathlon Ireland one day license when you registered for this race, Triathlon Ireland will refund your one day licence fee.
Thank you for your continued support of the Galco Race Series and Naas Triathlon Club. Our club is committed to continuing to host exceptional multisport events and we greatly appreciate your understanding and support in these challenging times. If you have questions, please contact us via email at [email protected] or through our Facebook page here.
Stay safe.
Kind regards,
Maxine Strain
Race Director, ​Naas Triathlon Club
Sunday's Round 2 of the Galco Naas Duathlon series was blessed with the first sunny morning in weeks and as a result got off to a flying start. As part of the BMW National Duathlon Series, this was always going to be a very competitive race and so it began with two of the male athletes breaking 10 minutes for the first 3.2k run leg.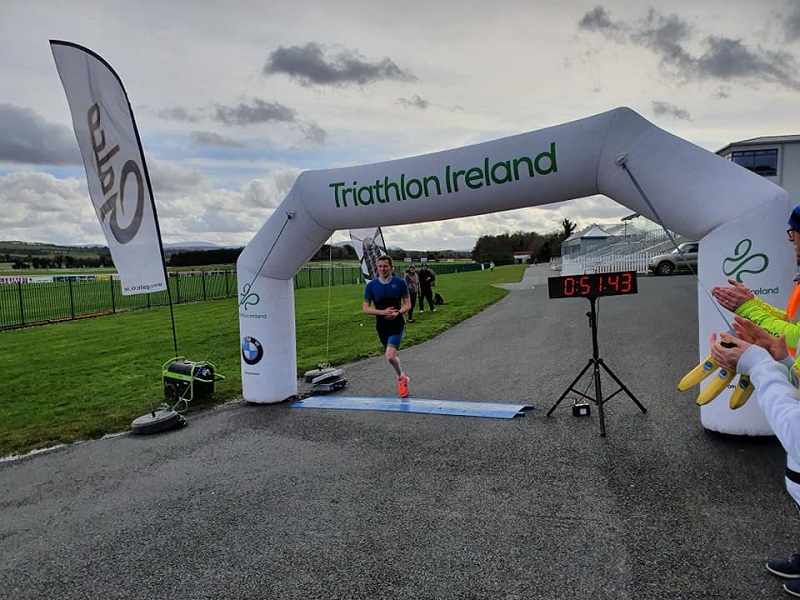 Niall Cornyn and Darren Dunne came in to T1 together with Paul Carroll, Alex Van Buttingha Wichers and Matthieu Proffit in hot pursuit. The leading trio kept up the pace, averaging just over 36kph on a tough bike leg and it was Paul Carroll leading back into T2 marginally ahead of Niall and Darren. It was all to play for as they started out on the 2nd run leg but it wasn't long until Niall Cornyn stretched his legs and began to pull away. Darren Dunne kept up the chase but couldn't catch Niall who completed the course in under 52 mins. Darren came in 2nd with Paul Carroll following up with a very creditable 3rd place. Alex Van Buttingha Wichers stayed on to claim the Junior section having come second in Race 1.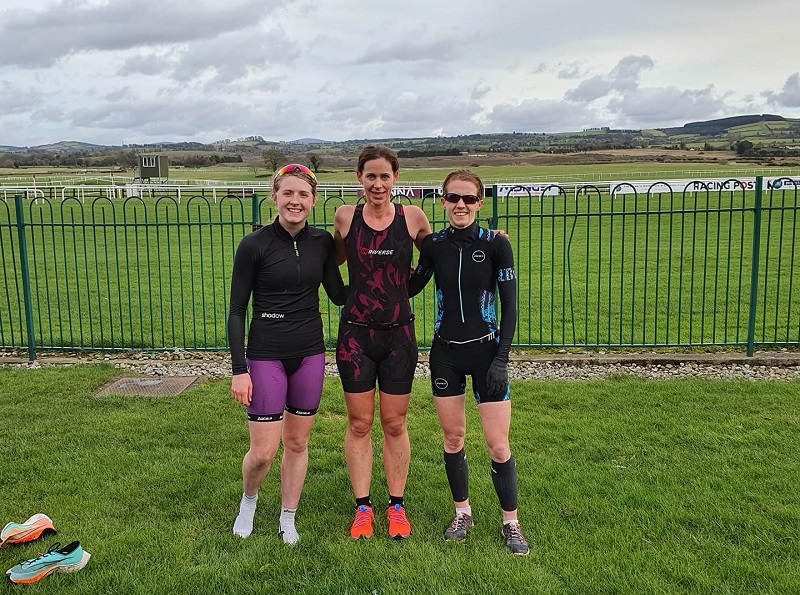 In the women's section, last month's winner Ciara Wilson was back to retain her title and as before set a blistering pace on the first run leg. She had a 44 second advantage heading into T1 from Shauna Doelken O'Shea, Ellen Vitting and Rachel Smyth. Ella Doherty managed to pull herself into the reckoning thanks to a strong bike split and claimed 2nd place behind Ciara with Ellen Vitting taking 3rd on the day. A special mention also goes to Naas Tri Club's Michelle Doyle who is always very competitive and claimed a win in her age category.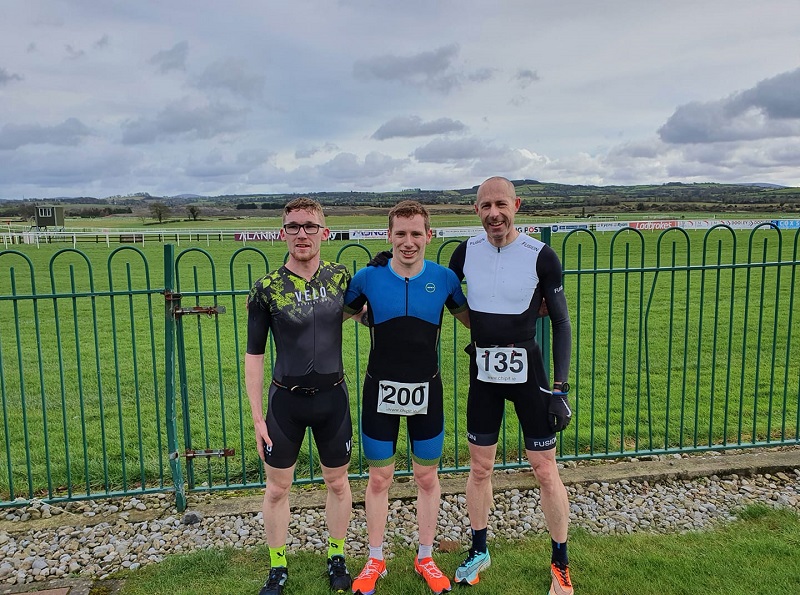 As always, these races are not just for the elite athletes. With well over two hundred registered there are many athletes who are there trying to win their age groups, beat their own personal best and lots who are just happy to complete their first multisport race. Well done to all who took part and we look forward to race 3 on the 29th March.
Race 3 – Sun, 29th Mar 2020

BMW National Series
Intervarsity Duathlon Championships
Kindly Sponsored by: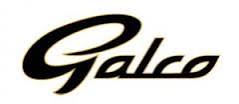 Fees are:
€25 for single race entry
€62.50 for entry to all 3, (one-off registration)
One Day Licence can be purchased on the day for all non-TI race participants
Galco Naas Duathlon Kicks of the Season
The Galco Naas Duathlon is the traditional season opener for Triathlon Ireland. It has also become a very prestigious event this year as it was also the start of BMW National Duathlon Series and we also had the honour of hosting the National Para-Duathlon Championships.
With a very competitive mens' field it was no surprise that the first run leg was fast and furious with 7 athletes coming in almost as one. Alex Van Buttingha Wichers, Patrick Peters, Luke Thompson, Matthieu Proffit, Marc Flavin, Jonathan Nangle, Joe O'Connor, all came into T1 in contention and it took the bike leg to separate them. Marc Flavin came into his own on the bike and came back into T2 with approx. a minute to spare which he held to come home on his own followed by Matthieu Proffit and Emmet Kelly.
The young guns were right to the fore all day. In the 16-17 age group Ralf Bodamer took the honours coming in 8th ahead of Alex Van Buttingha Wichers while in the 18-19 age group James O'Shea came in first ahead of Luke Thompson in 11th and 13th places overall.
In the womens' section, Ciara Wilson got away to a flying start ahead of Elizabeth Carr, Natasha Kelly, Rachel Smyth, and Jennifer O'Sullivan. A little further back Ellen Vitting, was biding her time and surged forward on the bike leg to give Ciara a scare in T2 but Ciara's run speed was enough to pull away on the final leg to take the win ahead of Ellen with Elizabeth Carr taking third.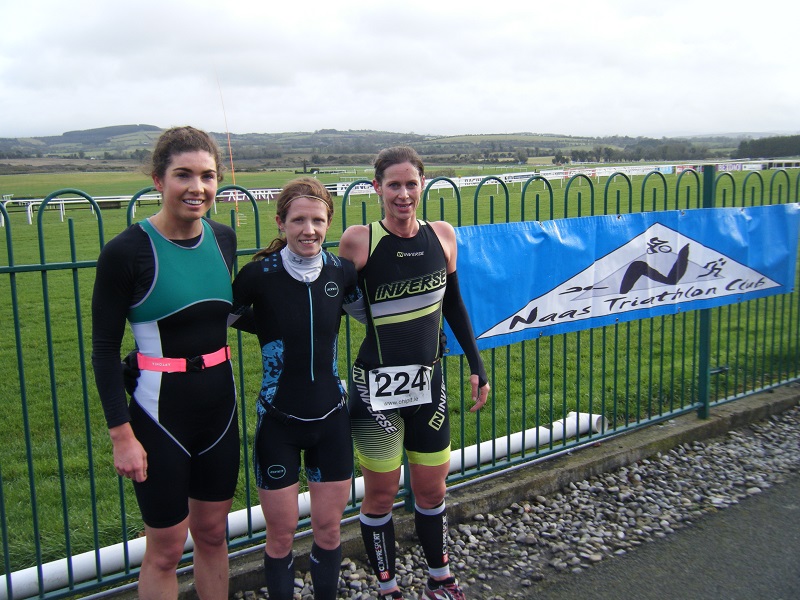 While these have become very competitive events at the sharp end, it is equally important to recognise that they offer a huge number of age-group athletes the chance to go out put their training to the test and for novices to try out their first multi-sport event. Congratulations go to all those who braved a sharp January morning to take part.
National Para-Duathlon Championships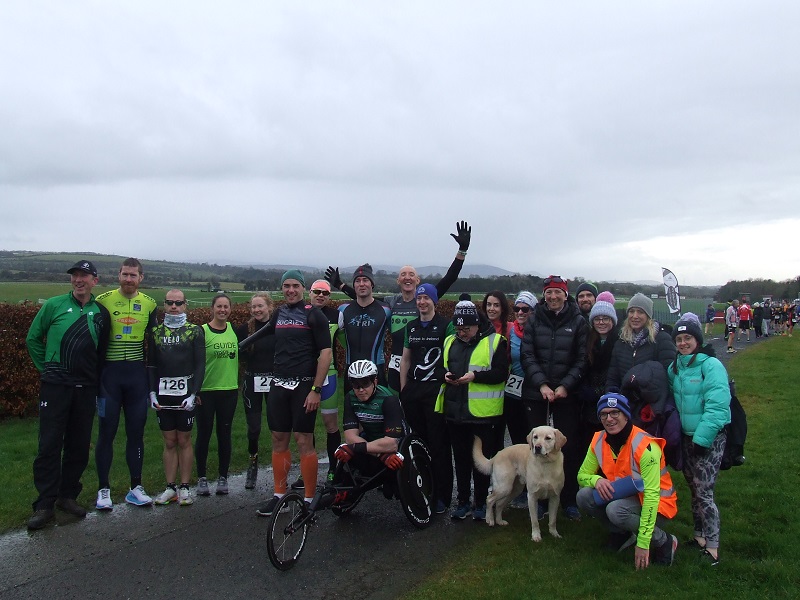 This is the second time the para-duathletes have come to Punchestown and they really add to the sense of occasion. All have their own individual challenges but still put in some amazing performances. Donnacha McCarthy, partnered on the tandem by Bryan McCrystal came in first after a blisteringly quick bike leg, followed by Tojo Lazarri and David Eccles. Cassie Cava was the first woman home followed by Rosemary Sweeney. Unfortunately, Leo Hynes and Mark Millar had mechanicals and couldn't complete. We wish them all well for the rest of their season, especially those hoping to make it to the Para-Olympics this year.