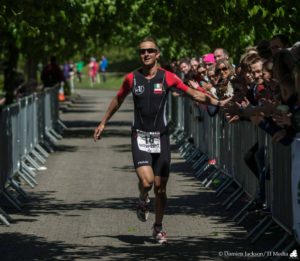 In the second race of the National Series taking place in Carlow on Sunday 14th May, Naas Triathlon Club (NTC) was there in droves.
The race was at the sprint distance with a 750m swim, 20km cycle and a 5km run.
On a day when the weather gods threatened to spoil proceedings the race itself went off in warm sunshine with stiff breeze.
The River Barrow was slightly colder than it could have been for the time of year with the previous 48hrs of rain. The swim was 250m upstream before a turn and 500m downstream to the exit and a run into T1 before mounting the bike for a challenging initial 10k on the bike that went up a long stiff drag into a cross / headwind before turning round and flying back downhill for the 2nd 10k back to T2 ……. Then the final assault with the 5k out and back run along the river bank and into the finish line …………
20 NTC members took part in what was a very strong club performance with the overall win going to Mariusz Olejniczak of NTC in a blistering time of 1hr 3mins, there were also age group podium finishes for John Howlett (40-44) and Paul Doyle (50-54).